I know, I should say Cuba. Reporting from Cuba, before it's too late: while it's still between two worlds. But I have only one resolution, actually, for the year that's starting. Perhaps I should say Raqqa, or Mosul. Libya. But for 2015, I just wish to write like this photo.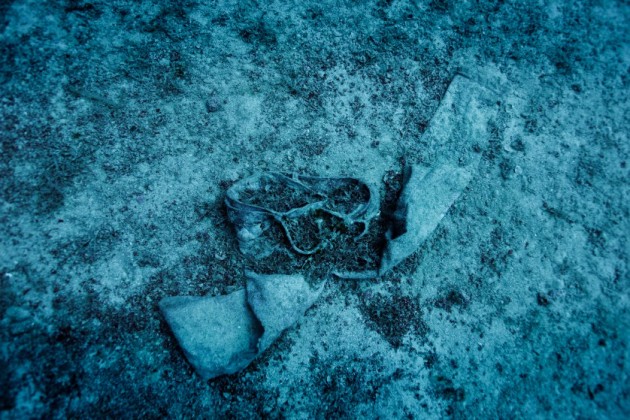 It has been shot by Francesco Zizola, it's the Eritreans-packed boat that sank off the coast of Lampedusa, Italy, a year ago, on October 3, 2013. Or better: it's what remains of it. 366 dead. 20 missing. And I would like to write like this photo, in my life, because the issue of migrants has been dealt with many times before, and especially in Lampedusa: from hundreds of angles. Authors, photographers. Film-makers. Everything seems to have been already seen, already told. And instead the world is a matter of point of views, nothing has been already told: in this standardized journalism where all of a sudden we all find ourselves in the same place, unaware of why, and most of all, of the country where we have ended up: only because it's in the headlines, only because that's where the story of the day is, rumour has it: because it's easier: and some of us, in Ukraine, booked a flight to the wrong airport and landed in Moldova – in this journalism where the majority of journalists follow the news, rather than discovering them, Francesco Zizola reminds us that the gold mine is always where you are. You just need to dig up.
The Italian word for "news" comes from Latin, and it is synonymous for knowledge. Not for new. And when from the desk you are replied: "It's been done already!" – there's no such thing like new or old news. There are only significant or insignificant news.
Francesco follows his own story. And nothing else. Antonio Cassese, when I was studying International Law, used to warn: The problem is when you have thousands of roads around, but none inside. That's it. Francesco worked for 15 years on childhood around the world, from Japan to Angola, from kids disfigured by war to kids disfigured by money – 15 years, today when a special report takes 15 hours, and after 15 days you are told: I covered Iraq. And he has this gaze, most of all, of endless delicacy. The fishing boat that dissolves in the blue, slowly, that fades away, like a figment of the imagination. Or that red curtain, that window, as if it was an ordinary home, looking at an ordinary sky: and yet, inconsistently, two fishes swimming in the air. And the man with the lamp, the little man, the scuba diving that explores this unknown object, that dim light – because migrants have been dealt with many times before: many told us of the destitution, the sweat the weariness: the escape: the waiting: often, the death: but what compels me to stop, when I look at this photos, and I look at them, and look at them again, it's been weeks, and every time, for a minute, still I stop, it's that they capture the absence. Because that's what actually migrants are for us. Invisible. In these days of screamed images, screamed stories, of action, in these days of high resolution and low information – here are the migrants. They aren't.
Francesco goes backbeat and against the flow.
And his gaze is the gaze I love the most: the gaze that drags you inside the story. That makes you realize that that story is your story, too. Because from now on, every time I will dive into the sea I won't but feel these trousers aground in the sand bed, like skeletons, like fossils, this turn-up of our lives, this dark side, the above and the below, but belonging to the same space – our lives based on the others' wealth. This freedom of the few, paid with the exploitation of the many. It's the sort of journalism that doesn't come to you: it goes with you. That makes you realize that you are the one who is looking, yes: but this doesn't mean that you are just an onlooker.
It's the only thing I would like. In the wars I will see, in the next months, in the blood I'll see swept away early in the morning, together with the dust of the previous day, in the bits of hand that I'll happen to pick up from the street as if they were a lost glove, to keep that delicacy of gaze, that ability to feel that Francesco saved through thirty years of savagery. It's the only thing I hope. In thirty years, to say that I have been a citizen of the world not because I have been traveling a lot, but because I've lived the others' lives as if they were my own life.
[A pair of trousers lie on the seabed near the shipwreck of the 66-foot-long fishing boat that sank off the coast of the Italian island of Lampedusa lies at a depth of 164 ft. on the seabed, on Sept. 22, 2014. The tragedy that happened a year ago on Oct. 3, 2013 killed 366 migrants from North Africa. Foto credit: Francesco Zizola] Italian version