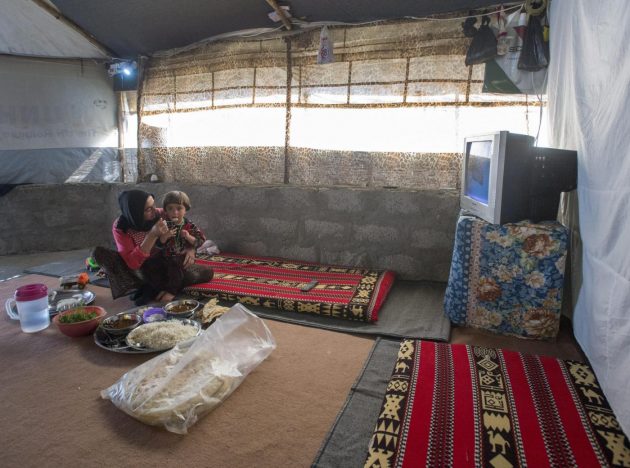 For journalists, northern Iraq is one of the easiest areas to work in. Somehow, it isn't even Iraq: it has a Kurdish population, and it's been an autonomous region since thirty years, roughly, since the Gulf War. It has its own government, its own parliament. Its own flag. And the Peshmerga, the Kurdish military forces, are flawlessy organized. Whether you want to meet refugees or the president, or cover a frontline, you always know who to call. And in a few minutes it's all ready. All fixed. But if you want to stay on your own for a while, here, it all gets tricky. Even just finding an aspirine.
You wander around uselessly for hours.
Like Erbil, somehow, which is the capital city, Dohuk, too, is basically a city without a center. A city that over the last years has been rapidly, excessively growing, and without any planning, any rationality, without any public space, with these drab, impersonal buildings, with their faded, unexpressive colours: and regardless of appearance, all shabby buildings. Because at bottom, here it all falls apart. Water, electricity. Roads. Away from the only hotel frequented by journalists, away from NGO and UN agencies offices, you find yourself in these dumps where perhaps there is a flat-screen TV, yes: but then there isn't a single socket working, there is no tap that doesn't remain in your hands, no window that you can properly close, no pipe that doesn't leak, no lift that doesn't get stuck. There is no wall with no cracks.
No even pavement.
No upright pole, upon a closer look.
Dohuk is the closest city to Syria – or more exactly, to the east of Syria, which is under ISIS rule: the Syria of the battle for Raqqa. And so, when you feel worn out with the war, you come here. To recharge your batteries, in theory. But there isn't a cinema, a park. A bookstore. Nothing. There isn't a street where you can walk and relax. The only thing there is no lack of, here, is military gear. Next to shops of flowers, of fabrics, of spices, there is everything: boots for any kind of ground, gloves for any kind of gun, helmets, binoculars, knives, shin pads, earmuffs  for snipers, cartridge belts for AK47s, holsters for pistols, holsters for daggers, camo T-shirts, camo sweaters, camo underwear, infrared lamps – and everybody greets me, hands out a tea, a sweet: because they believe I am one of the Europeans who joined their ranks. They are a bit disappointed when I say that no, I just write. But then they have countless questions. On every war, every battle. Only, they never ask who was fighting against whom, and why, and how it ended, if it ended, actually: they ask of weapons, of tactics. Of jets and tanks. Nothing else.
There are also kids military uniforms.
Yes, I know. Kurdistan has always been like that. Because it has always been at war: and when that's the background, how can you escape it? the entire society gets dragged in. In the end, it was just yesterday when the Kurds were being gassed by Saddam Hussein: and now they have jihadists in their backyard. And yet… I don't know. It's something so normal that it's something we don't write anymore. Something we don't even notice anymore: we, too, journalists, part and parcel of the game, with our helmets and shin pads. But it's the true problem of the Middle East, honestly: because they all know how to use a rifle, here, they all know how to light up the enemy with thermal imaging: but not how to light up a street with lampposts.
Iraq is one of the countries where the Wests spent the most. Billions and billions dollars: but it all went to guns. Guns, guns.
The true problem is that war, here, is a job.
It's neither attack nor defense anymore: it's simply a way to make ends meet.
I peek into Facebook, and all my friends are on holiday, now that it's August. This week they are all in southern Italy for the festival of folksinger Vinicio Capossela: which is something as Vinicio Capossela is, something hard to explain, it's poetry, the world turned upside-down: with no clock, a week-long strike against the strict rythms of work, of profit, of efficiency: against all what is normal, and yet, normal not because it makes sense, actually, but only because we've got used to it, and – and we are here, instead. Including me. Because in the end, when did I waste all this time learning how to fix night vision goggles? How to pick up the right bulletproof vest according to the most likely caliber of incoming fire? How did I end up here dressed in all black like a SWAT team member? I look into a mirror, as I try on a balaclava for sandstorms: for this war which is a thousand wars, now, and you can chose the war you prefer, what would you like to cover? the one against jihadists? the one against Assad? the one against the Arabs or the one against the Kurds? or perhaps the one among the Kurds? The war of Russia, the war of the United States, the war of Turkey? Or maybe the war of Iran? Who would you like to embed with? Because there is all the world, here: there are even the anarchists, fighting for socialism, with their flag of Cuba: there's everyone except for Syrians, and – and I feel an idiot.
Just an idiot.
Then I know, tomorrow, back to the frontline, I'll forget all this right away, I'll return instantly to the rythms of work, of efficiency: and I'll diligently write of the battle. Of guns, of tactics. Of jets and tanks.
But what a waste of life.
That's the only thing I should write, honestly.
What a waste of life.
Sostieni ilfattoquotidiano.it: mai come in questo momento abbiamo bisogno di te.
In queste settimane di pandemia noi giornalisti, se facciamo con coscienza il nostro lavoro, svolgiamo un servizio pubblico. Anche per questo ogni giorno qui a ilfattoquotidiano.it siamo orgogliosi di offrire gratuitamente a tutti i cittadini centinaia di nuovi contenuti: notizie, approfondimenti esclusivi, interviste agli esperti, inchieste, video e tanto altro. Tutto questo lavoro però ha un grande costo economico. La pubblicità, in un periodo in cui l'economia è ferma, offre dei ricavi limitati. Non in linea con il boom di accessi. Per questo chiedo a chi legge queste righe di sostenerci. Di darci un contributo minimo, pari al prezzo di un cappuccino alla settimana, fondamentale per il nostro lavoro.
Diventate utenti sostenitori cliccando qui.
Grazie Peter Gomez
GRAZIE PER AVER GIÀ LETTO
XX

ARTICOLI QUESTO MESE.
Ora però siamo noi ad aver bisogno di te. Perché il nostro lavoro ha un costo. Noi siamo orgogliosi di poter offrire gratuitamente a tutti i cittadini centinaia di nuovi contenuti ogni giorno. Ma la pubblicità, in un periodo in cui l'economia è ferma, offre ricavi limitati. Non in linea con il boom accessi a ilfattoquotidiano.it. Per questo ti chiedo di sostenerci, con un contributo minimo, pari al prezzo di un cappuccino alla settimana. Una piccola somma ma fondamentale per il nostro lavoro. Dacci una mano!
Diventa utente sostenitore!
Con riconoscenza Peter Gomez
Sostieni adesso