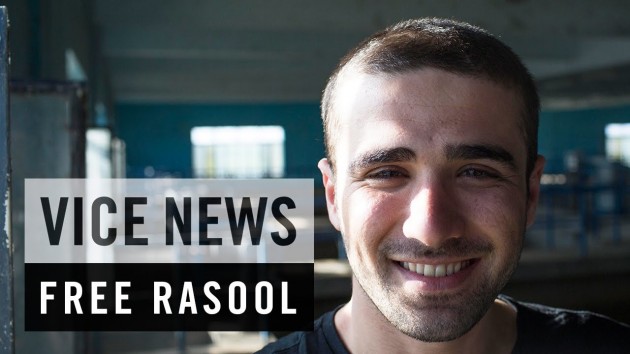 According to statistics, truthfully, the most dangerous job isn't ours. It is the metalworker. Or the miner, the lumberjack, it depends on the country – yet never the war correspondent.
And if we get high rankings, it's not because of us, foreign journalists: those really at risk are lo-cal reporters. Fourteen foreign journalists have been killed in Syria, along to 116 Syrian journalists. And it's the same everywhere. The risk varies with the nationality. The most targeted are reporters of countries like Colombia, Mexico. Russia. Pakistan. Or in Italy, those who cover mafia networks. Investigative, rather than war journalists.
And we couldn't write a single line without local reporters. Without our fixers – from to fix, to repair, to mend: a fixer is a translator, a guide, a logistician, he is all what you need: he takes care of everything. He solves any problem. He is behind your reportage, it makes it possible. And he exposes himself much more than you do: because in the end you leaves, he stays.
Your fixer sets up your reportage. And pays its consequences. While you are at home, getting awards.
And that's why I feel so uneasy to be in Istanbul. I am here clearing a work backlog before get-ting back to Syria and Iraq, and partly I write partly I walk around, in this city which is a mix of East and West like no other one, and it's astonishing, and makes you plan to move here, to invite all your friends, all your relatives, because it would offer something special to each of them – and yet somewhere, nearby, while I hang out in cafés, while I buy scarves and kilim carpets, Mohammed Rasool is locked in prison. He is 24, is from Iraq, and despite being so young, is one of the best fixers I have ever met. He can explain to you any slightest shade of any event. With simplicity and rigor. And most of all, with dedication. He can hypnotize you for two hours in the heart of the night, while tired, and frozen, in December, you wait for crossing into Kobani, by talking of Sykes-Picot and the honor code of bedouin tribes. In our spare time, we played with Twitter, he studied for his PhD. But on August 27 he was stopped in Diyarbakir while covering the end of the truce between Turkey and the Kurds with two British journalists of VICE, who were later released.
They were charged with affiliation to Isis.
Because that's what Turkey is today. A seemingly normal country, where elections are scheduled for next week, yet, and the South-East is under airstrikes, towns under curfew, towns under sie-ge, street fighting, dead: with the complete silence of the international community. Because Erdogan is our ally. We need his country, materially, its territory, we need it stable: and so we forgive him everything. We forgive him the systematic intimidation of the press, the more and more frequent blackout of social media, of Facebook, Youtube, we forgive him the more and more violent crackdown on activists, on all what started with the Gezi Park movement, censorship, arrests, searches, cover-ups: we forgive him even his ambiguity towards jihadists. Because in theory Turkey joined the war on Isis, last July, yet its border with Syria is still wide open: and it's the base, it's no secret, of Syrian rebels. Isis included. It's through its border that oil, the main source of income for Isis, is smuggled – and Turkey is its main buyer. In the first month of airstrikes, Turkey targeted 300 times the PKK, three times Isis.
And yet, Turkey hosts more than two million Syrian refugees. Plus about a million of unregistered Syrians. So far, it has spent for Syrian refugees 5 billion dollars: Italy 88,496 – 60 percent of what Pm Matteo Renzi paid to fly with a private jet to New York for the US Open finals. And if Turkey can afford it, it's because Erdogan has led the country through ten years of massive development. And not only economic development. Until a while ago, his Turkey was praised as a model of coexistence of Islam and democracy. And actually: if you just walk around Istanbul, today, not only with its beauty, with its efficiency, but its energy, you can't but realize how racists we have been to deny Turkey not only the EU membership, but even a frank discussion on our potential relations. With countless excuses: basically, yet, because Turkey is Muslim. And Muslims are the Blacks of our century. Those against whom everything is allowed. Now Turkey is going through delicate time, true. But not because Muslims are unfit to democracy, as we hear around. Rather because it bears the consequences of Europe's rejection, and of the war behind the corner. What would happen in Italy, in France, Sweden, under the same conditions? If London, suddenly, woke up with 500,000 Syrians in the street, 15 percent of its population?
Istanbul has more Syrian refugees than Europe as a whole. These are complex, rather than complicated, countries. It's easy to drift into simplifications, into stereotypes, ad not to see what would happen in our own countries, too, and perhaps is already happening: countries where it's easy to become judges, and criticize – where it's crucial to keep in mind the big picture. Always. The overall analysis. The causal relationships. Else, you would walk around Istanbul and simply think: This is turning into a regime.
But for really grasping what's going on, I need Mohammed Rasool.
Sostieni ilfattoquotidiano.it: mai come in questo momento abbiamo bisogno di te.
In queste settimane di pandemia noi giornalisti, se facciamo con coscienza il nostro lavoro, svolgiamo un servizio pubblico. Anche per questo ogni giorno qui a ilfattoquotidiano.it siamo orgogliosi di offrire gratuitamente a tutti i cittadini centinaia di nuovi contenuti: notizie, approfondimenti esclusivi, interviste agli esperti, inchieste, video e tanto altro. Tutto questo lavoro però ha un grande costo economico. La pubblicità, in un periodo in cui l'economia è ferma, offre dei ricavi limitati. Non in linea con il boom di accessi. Per questo chiedo a chi legge queste righe di sostenerci. Di darci un contributo minimo, pari al prezzo di un cappuccino alla settimana, fondamentale per il nostro lavoro.
Diventate utenti sostenitori cliccando qui.
Grazie Peter Gomez
GRAZIE PER AVER GIÀ LETTO
XX

ARTICOLI QUESTO MESE.
Ora però siamo noi ad aver bisogno di te. Perché il nostro lavoro ha un costo. Noi siamo orgogliosi di poter offrire gratuitamente a tutti i cittadini centinaia di nuovi contenuti ogni giorno. Ma la pubblicità, in un periodo in cui l'economia è ferma, offre ricavi limitati. Non in linea con il boom accessi a ilfattoquotidiano.it. Per questo ti chiedo di sostenerci, con un contributo minimo, pari al prezzo di un cappuccino alla settimana. Una piccola somma ma fondamentale per il nostro lavoro. Dacci una mano!
Diventa utente sostenitore!
Con riconoscenza Peter Gomez
Sostieni adesso